November 29 - December 2, 2018
Address: 131 Chrystie Street, New York

Public Hours:
Saturday, December 1st: 12-6PM
Sunday, December 2nd: 12-6PM

Yael Ben-Simon
Mr. Kiji
Charlotte Lethbridge
Andre Szabo
Darryl Westly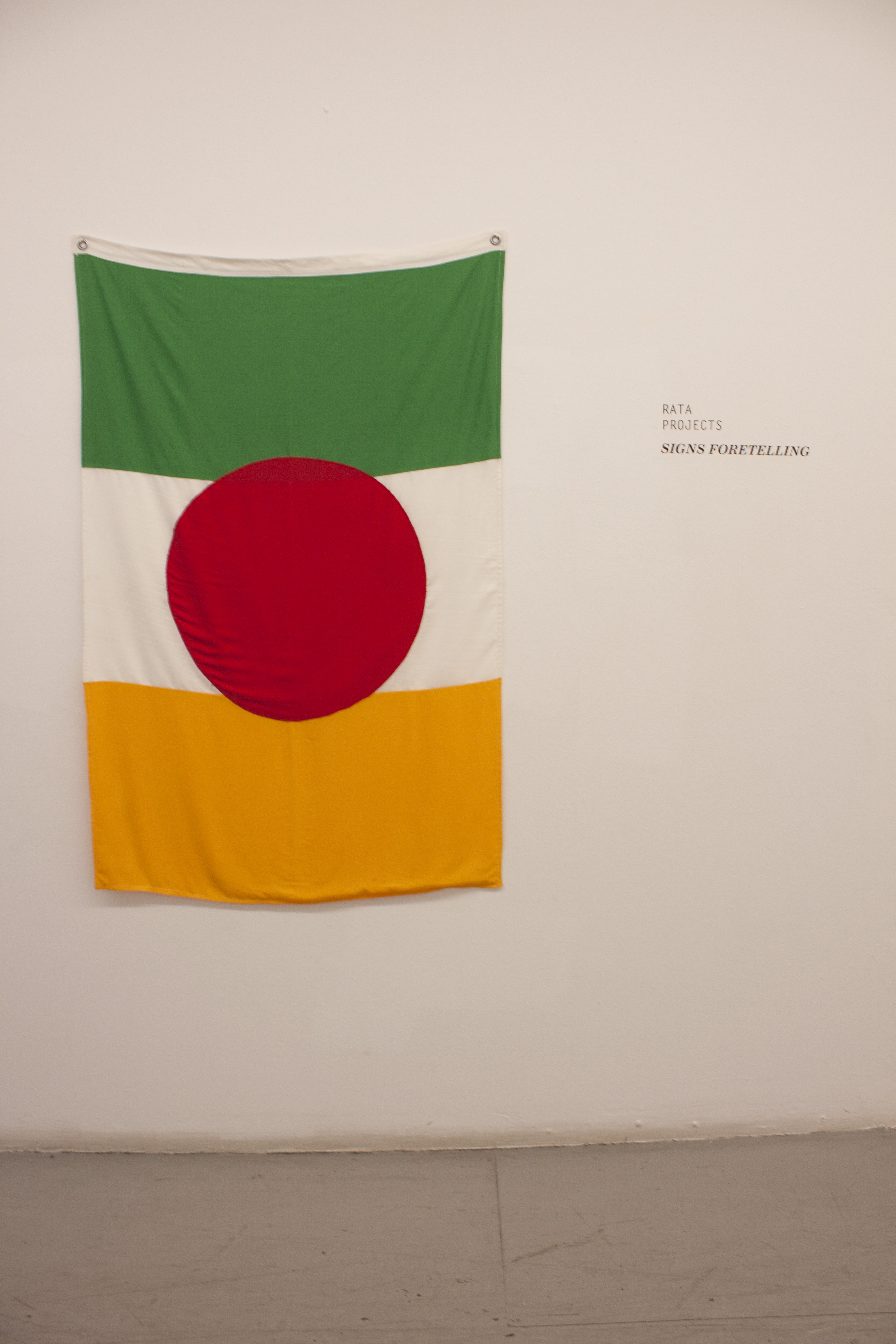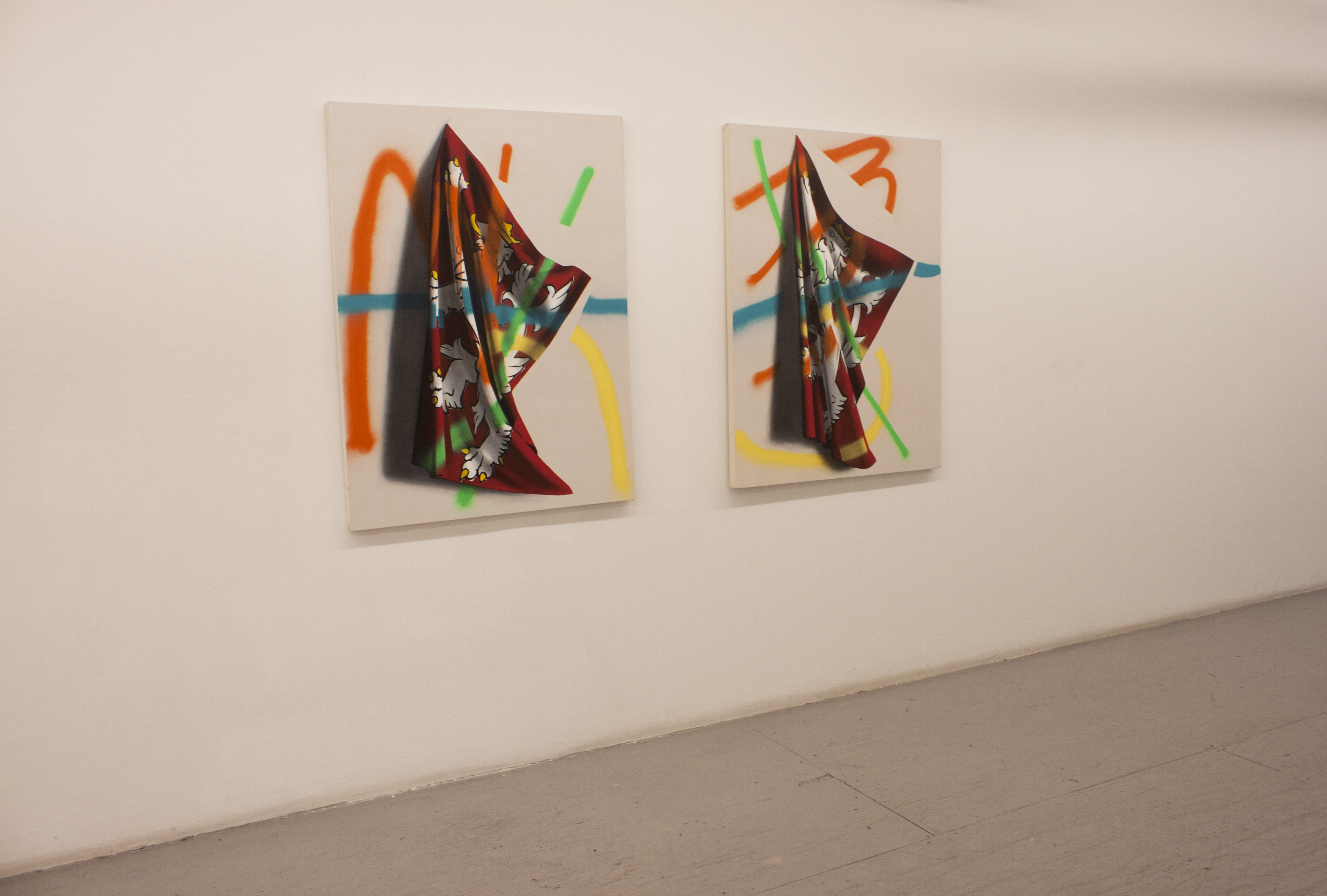 …

Over the saints of debauchery

Over criminals made of gold


Over the princes of delirium

Over the paupers of peace


Over signs foretelling the end of the world

Over signs foretelling the beginning of a world


Like one of those tender strips of flesh

On either side of the vertebral column


Marcel, Wave!

- Charles Henri Ford, FLAG OF ECSTASY (For Marcel Duchamp), 1972

RATA projects brings together contemporary artists to explore the loaded and multifaceted symbolism of flags - from personal ensigns, to nationalist icons, to design objects.

Yael Ben-Simon
Yael Ben-Simon's manipulation of heraldic and national flag imagery forms the basis of her paintings, which explore nationality, politics, and history. Disarrayed, stretched, floating, or obscuring objects, the flags exist in a fictional space, the logic of which is unclear to the viewer. Removed from an overtly political context, the symbols on the flags become unintelligible, thereby challenging their status as venerated objects. Ben-Simon received her BFA from the Bezalel Academy of Art and Design, Jerusalem, Israel and her MFA from The School of the Art Institute Chicago, Chicago IL. Awards and residencies include the MASS MoCA Artist Residency, North Adams MA (2017); 4th 2017 ArtSlant Prize Showcase (2017); SIM Residency, Reykjavik Iceland (2016); PILOTENKUECHE Artist Residency, Spinnerei Leipzig Germany (2016). Select exhibitions include 'Out of My Book,' Soo Visual Arts Center, Minneapolis, MN (solo) (2018); 'Vagabond Time Killers,' The Wassaic Project, Wassaic NY (2017); Deal With It, Maake Magazine Fall 2016 Exhibition, Woksob Gallery, State College PA (2016); and 'Babel,' PILOTENKUECHE Halle 14, Spinnerei Leipzig, Germany (2016).

Mr. Kiji
Artist, designer and muralist Kiji McCafferty's (aka Mr. Kiji) work is informed by his dual American and Japanese origins. Born in Japan to an American mother and a Japanese father, he grew up primarily in New Mexico and New York City. Fascinated by the history of US-Japan relations, particularly during World War II, the artist has explained that "American and Japanese culture are united because of the conflict...and there's this weird mirroring and mimicry — these echo effects in pop-culture imagery." Rather than making a value judgement on this relationship, Kiji aims to create "a language that deals with folklore and pop-culture references from when I was a kid," incorporating imagery from sources as varied military patches for clandestine operations to comics. Kiji was formally trained in Tibetan Buddhist Thangka painting and earned his BFA in Industrial Design from the Rhode Island School of Design, Providence, RI. His work has been featured in publications including The Creators Project and Wired, and he has produced murals of scale and editorial drawings for the New Yorker and Bloomberg, among others. In 2017, he was the subject of the Red Bull Arts Resident Exhibition in Detroit along with Tschabalala Self and Ellannah Sadkin.

Charlotte Lethbridge
In her newest paintings, Charlotte Lethbridge taps into American nostalgia and embeds her work with a sneaking sense of detachment. Her paintings are characterized by a muted color palette and minimal, sharp lines, amplifying quotidien moments; evoking longing and stillness through her depiction of the mundane. These paintings depict a Californian landscape in peril; both haunting and mesmerizing. Charlotte Lethbridge was born in Yonkers, NY in 1991. She received her BFA from the School of Visual Arts. In the summer of 2018, Lethbridge's solo exhibition Cliffhangers, Red Herrings, and Unreliable Narrators was shown at Deborah Berke Partners' project space in New York. Charlotte currently lives and works in Los Angeles.

Andre Szabo
Andre Bogart Szabo was born in Washington, DC in 1990 and is currently based in Brooklyn, New York. Szabo received his BA from Emerson College's Visual Media Arts department. Since 2010 he has created paintings, drawings, prints, and videos. He recently completed an artist residency at MASS MoCA. Szabo's mind-bending works on paper place an emphasis on repetitive mark-making and close attention to the economy of line. His most recent series, utilizes the printmaker's brayer as an alternative to the painter's brush; here, the artist hand-marks the paper with lithography ink.

Darryl Westly
Through his work, artist and curator Darryl Westly investigates perceived desire and projected fantasy. His hyper-realistic paintings layer personal iconography, art historical references, architectural elements with idealized landscapes and seductive figures. As Westly explains, "the legend of American exceptionalism and the reality of current of events has a created a steep contrast between the dream and reality of what this country really represents throughout the world today." Westly graduated from Pratt Institute as a sculpture major and holds a BFA from The Cooper Union for the Advancement of Science and the Arts. He currently works alongside the art collective Bruce High Quality in Industry City, Brooklyn and in his studio in Chinatown, Manhattan. He has curated shows for Christie's Auction House, FiveMyles and Miranda Kuo, and most recently was commissioned to design a Digital watch for Fossil. Select exhibitions of his work include '10 Years / 100 Sculptures' curated by Curated by Todd von Ammon & Joseph Ian Henrikson, Anonymous Gallery, Mexico City, Mexico (2018); 'Ways to Die,' Bruce High Quality Foundation, New York, NY (2018); and 'Art Athina with Club Pro LA and The Institute for New Feeling,' Tae kwon Do Pavillion, Athens, Greece (2015). In 2016, he was awarded a residency with Beirut Art Residency, Lebanon.



December 6 - 23, 2018
Opening Reception: December 6, 2018

Open to the public Thursday, December 6th - Tuesday, December 11th.
Hours: December 6-11, 2018: 11:00 am – 9:00 pm
December 12 - December 23rd: by appointment only.

A retrofitted Cuban strip mall... turned project space.

Address: 3621 sw 8 st, Miami, FL 33135



Fanny Allié in LA BODEGA Y MÁS. Photo by Casey Kelbaugh for ArtNews

El Espacio is located in the heart of Miami, FL on the famous Calle Ocho street of Little Havana and next to Miami's iconic landmark, Versailles Cuban Restaurant. The space was formerly occupied by Cuban style bodegas such as the original Farmacia Luis. The facade of the building has remained intact, paying homage to the eclectic style of each of the bodega's unique storefronts while the interior has been altered into one 6,000 square foot space.

For Good to Know's El Espacio Miami exhibition, RATA Projects will present a site-specific installation by artist Fanny Allié in the Coin Laundromat storefront and exhibition space. The project is comprised of Allié's life-size characters sewn out of plastic trash bags onto free-hanging canvas. The pieces will be visible from the exterior to engage passersby, as well as from within the space itself.

Roger Salerno, a psychoanalyst and professor of sociology whose writing explores urban alienation and estrangement, calls laundromats "iconic places of loneliness," in part because they provoke subconscious longings for domestic stability.

The subjects depicted in this series are inspired by nomadic people seen on the street and informed by images found on the Internet. They evoke the history of the specific space and convey a more general sense of transience.

Allié captures the pervasiveness and instability of migration by utilizing ephemeral yet familiar materials: trash bags are ubiquitous and taken for granted, designated for one-time use. Allié finds ways to recycle and breathe life into these castaway items, echoing the way in which El Espacio is being repurposed.

These itinerant figures inhabit the public realm - the streets - and exist in a fleeting "in-between" state (in between homes, in between point A and point B. Merging with the objects they are carrying and the surrounding space, they become hybrid entities bordering on abstraction.

Allié's nomadic and marginalized figures connect with the history and environment of Little Havana, activating the empty storefront with their bold presence and drawing outside viewers to the exhibition within. Little Havana, which is known to be the home to many immigrants - moving from one place to another – will also be the temporary shelter to Allié's itinerant characters, frozen in motion during their journey.



Installation Views El Espacio, December 2018. Fanny Allié. Woman-Shadow (2018). 88 x 72 inches. Plastic bags sewn on canvas

Fanny Allié
Fanny Allié's mixed media pieces on fabric and paper present figures fusing with their surroundings, bordering on abstraction. Abandoned debris, human beings, and the movement of the streets are coalesced and reformed into hybrid entities. Merged with their environment, her subjects become a type of cryptid or lost spirit, eerily human yet entirely different beings.



July 25 - August 18, 2018
Closing reception: August 18, 6-9pm





131 Chrystie Street
New York, NY 10002

Fanny Allié
Vincent Dermody
Jason Douglas Griffin
Jack Henry
Tim Mitchell
August Krogan Roley
Alex Valls
Jess Willa Wheaton

For RATA Projects' inaugural exhibition, curators Audrée Anid and Rachel Tretter will present Skip/Salvage, a group show of New York-based artists on view from July 25 - August 18, 2018.

Featuring a diverse range of media, Skip/Salvage focuses on collage and sculptural constructions, with works comprised of domestic remnants, byproducts of manufacturing, and fragmentary objects from daily life recontextualized to create new meaning. The pieces in the show denote a specific place and time, often borrowing from the landscape of New York City as well as the artist's personal memories.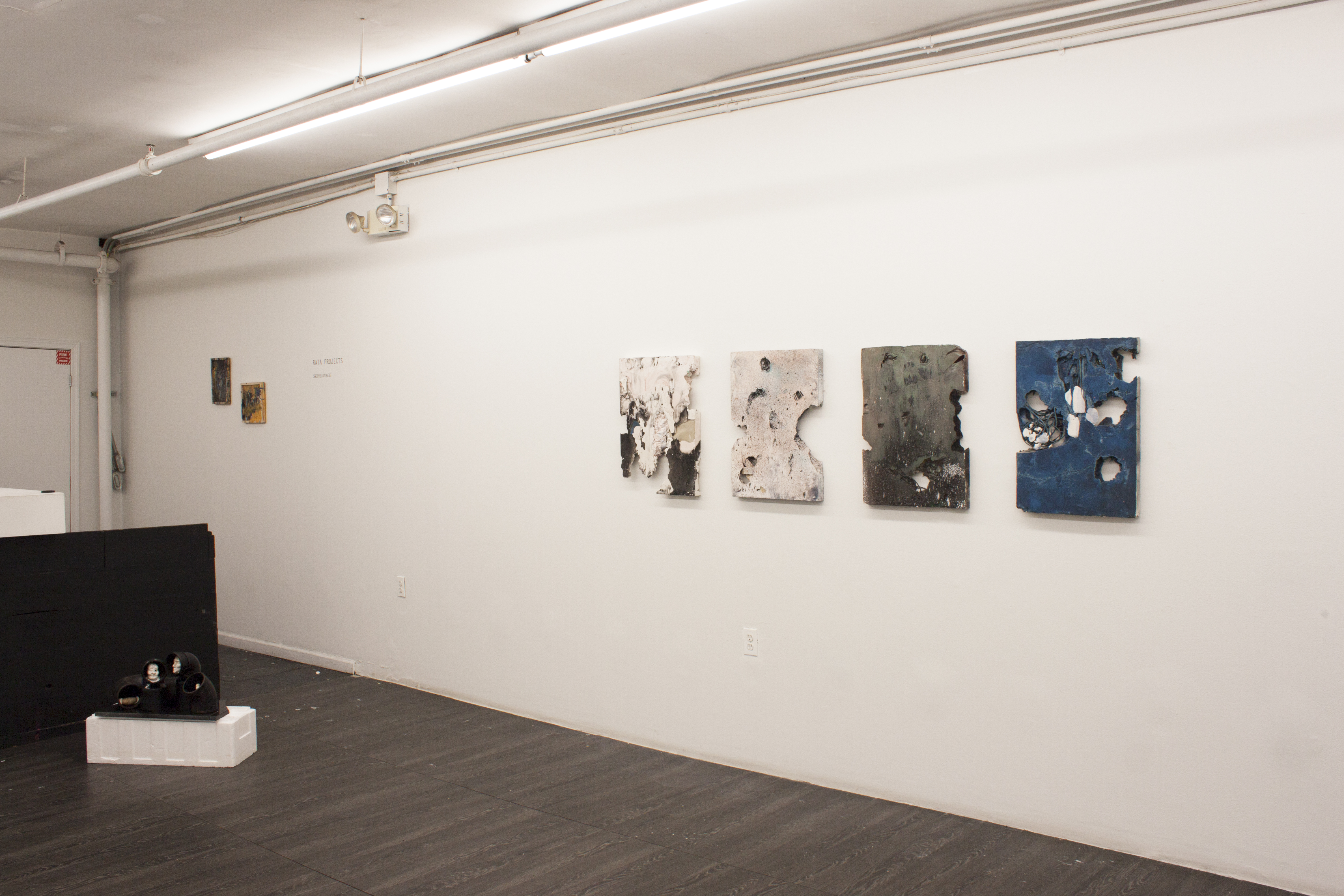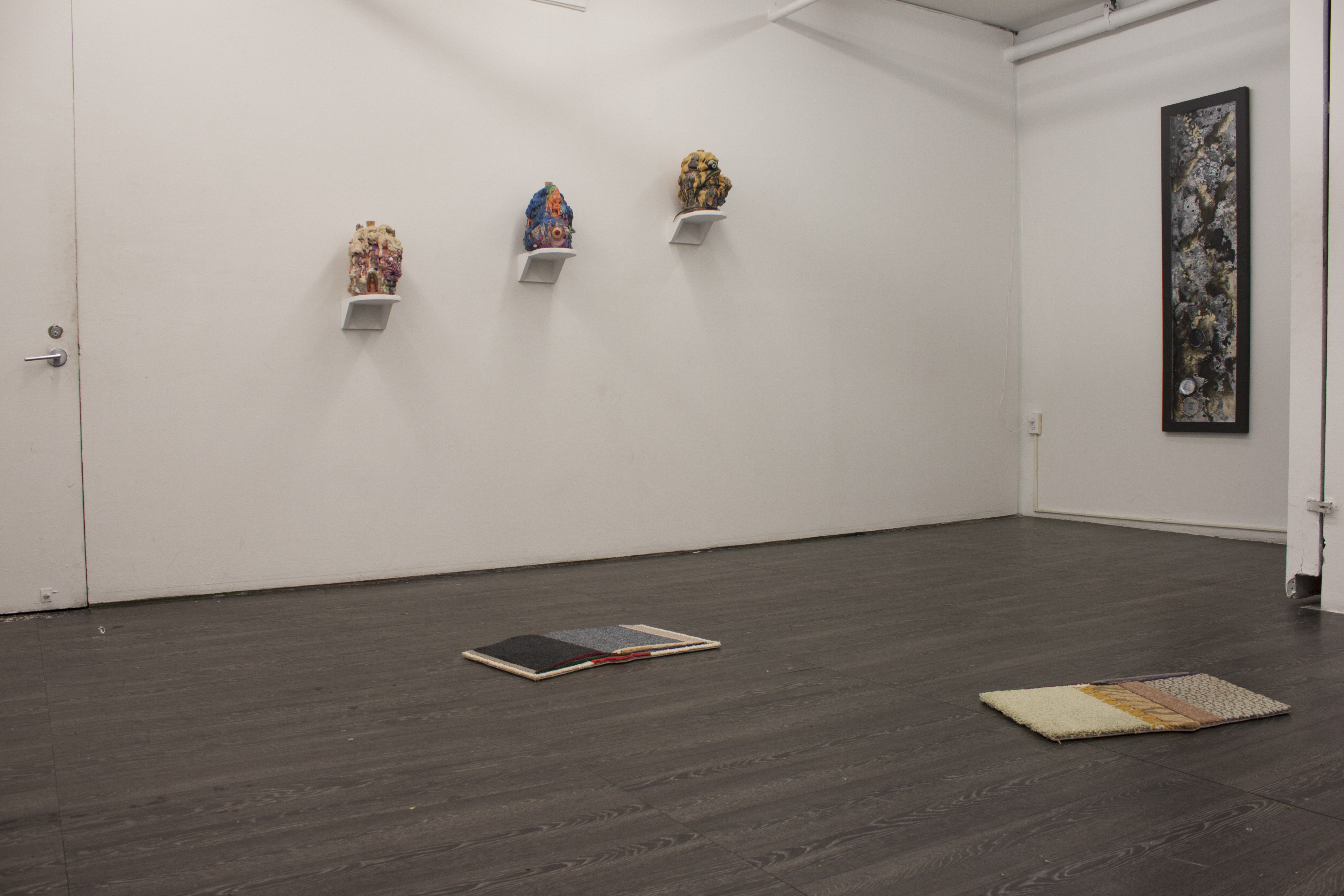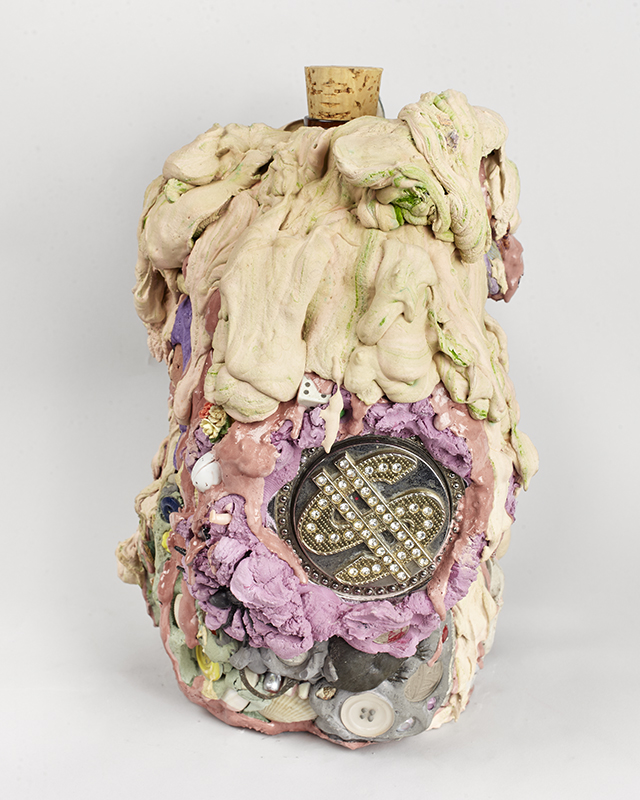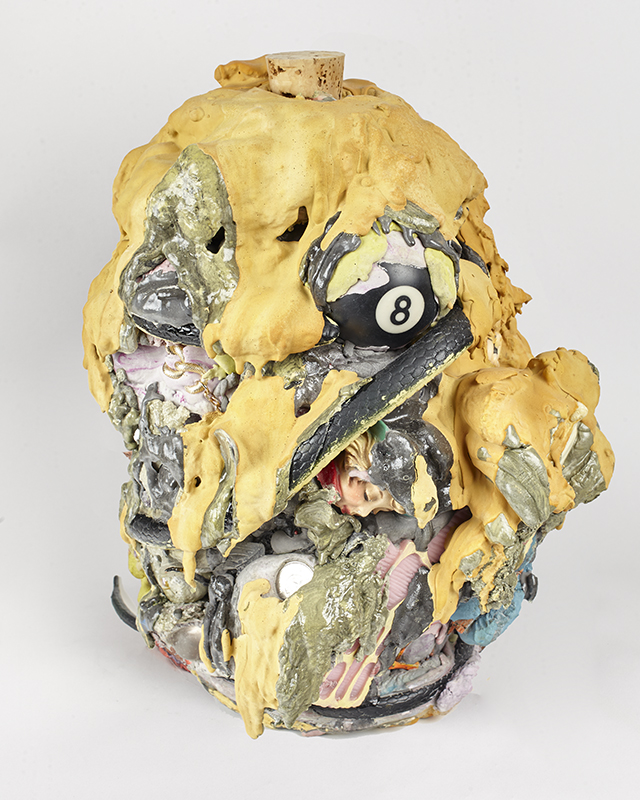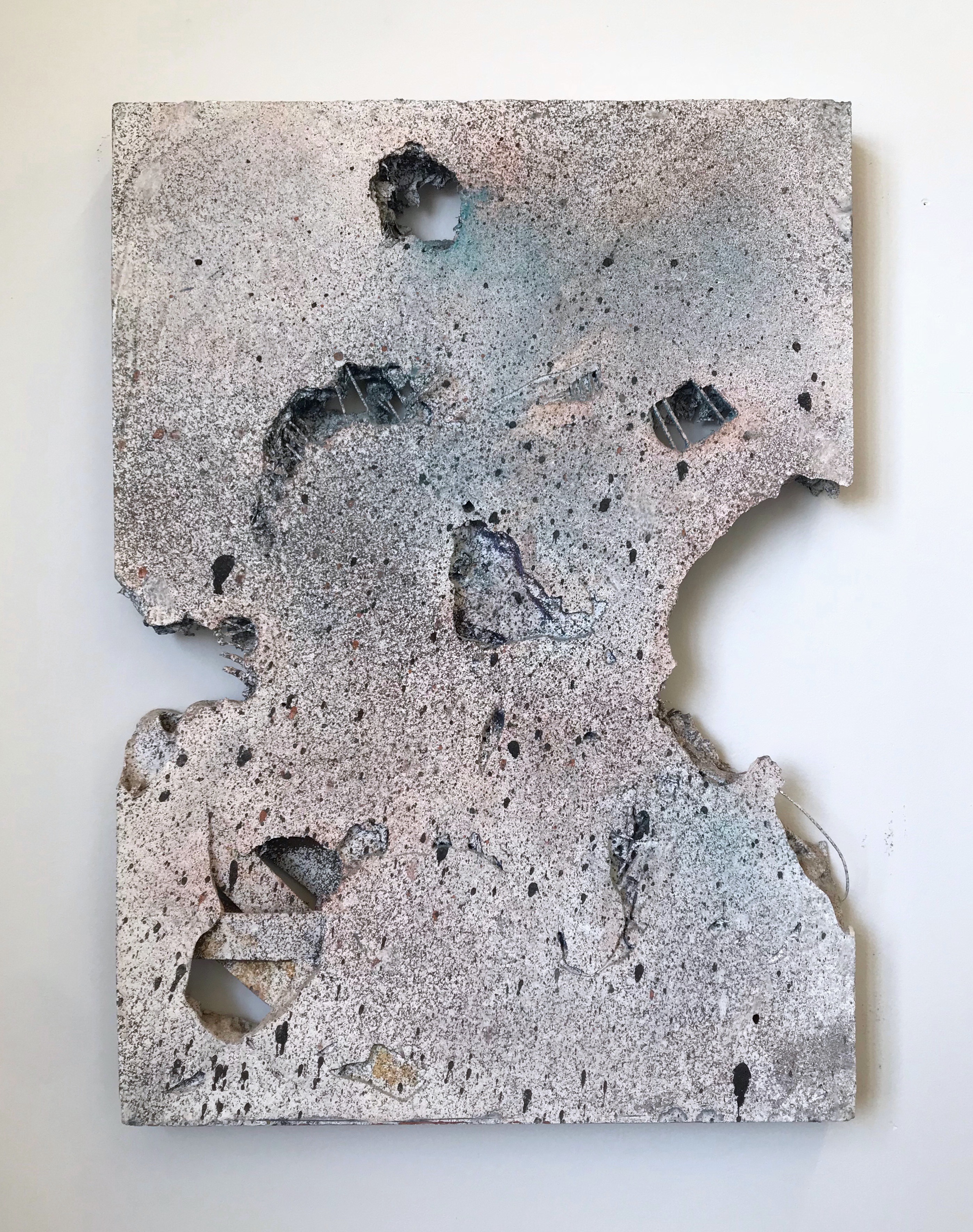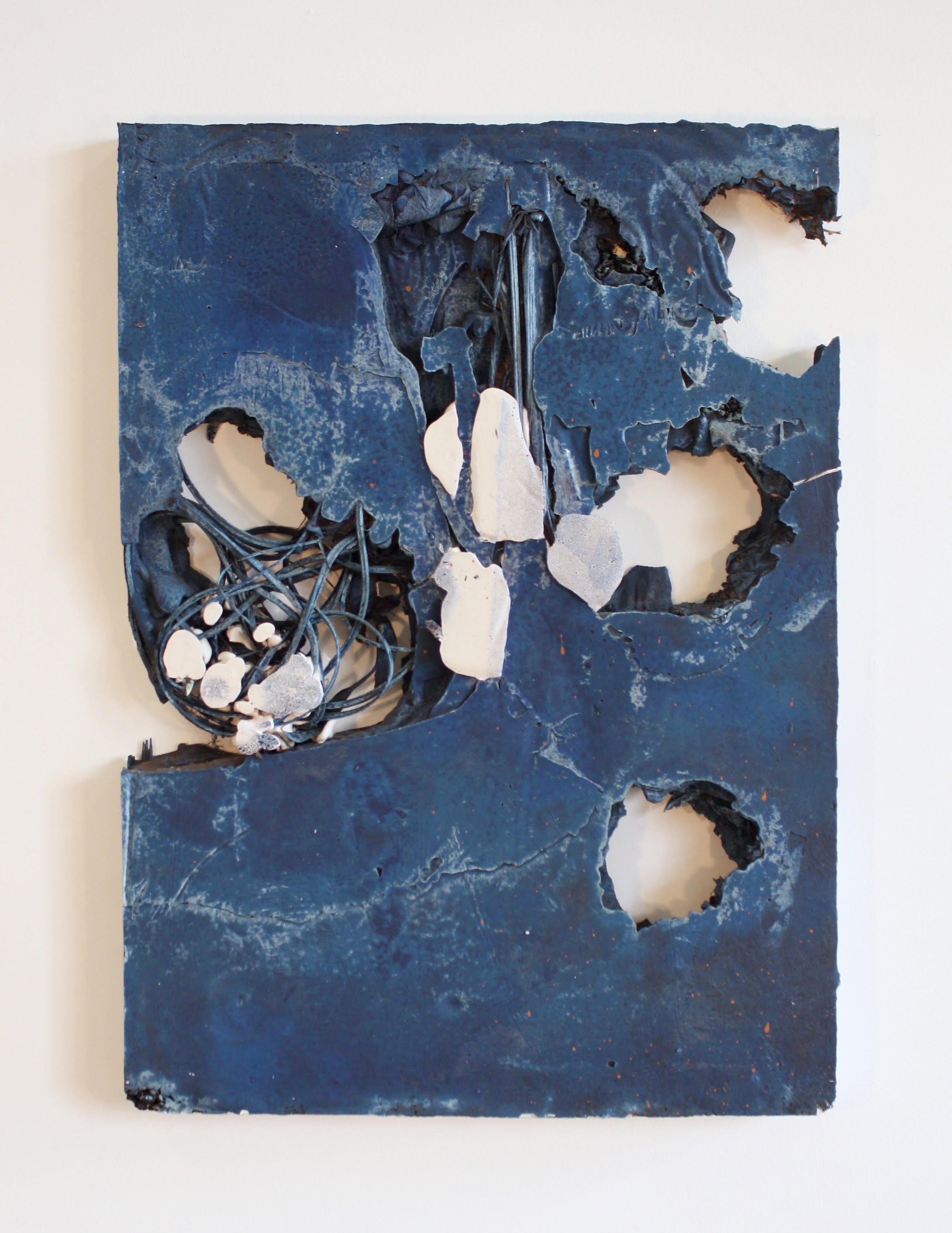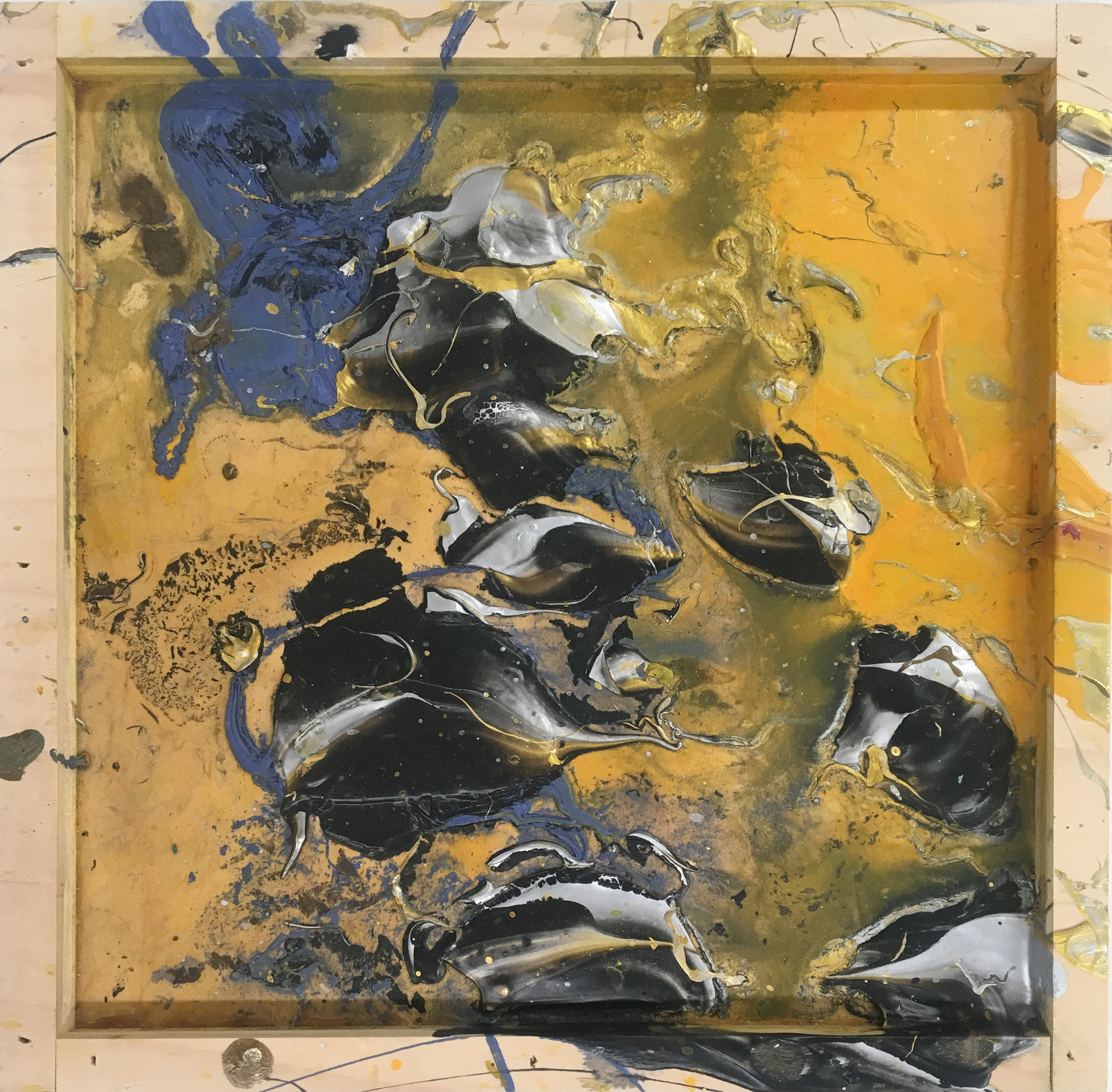 Fanny Allié
Fanny Allié's mixed media pieces on fabric and paper present figures fusing with their surroundings, bordering on abstraction. Abandoned debris, human beings, and the movement of the streets are coalesced and reformed into hybrid entities. Merged with their environment, her subjects become a type of cryptid or lost spirit, eerily human yet entirely different beings.

Vincent Dermody
Since 2014, multidisciplinary artist Vincent Dermody has centered his practice around a sculpture collage technique which he calls the "memory jug," a reference to an American folk art form of scrapbooking and memorializing. In the sculptures, Dermody layers and buries found and collected objects in concrete to create a palimpsest of personal anxieties, dreams, failures, and triumphs.

Jason Douglas Griffin
Jason Douglas Griffin's works act as fabricated archeological records of city walls, layering advertisements, graffiti, paint, and posters on paper. The groupings of found images in each piece are random, inviting viewers to develop their own narratives as to the links between the imagery. Griffin investigates the power of these visual relationships by working with multiple series simultaneously, breaking them down into component pieces, and then recombining them to create new content.

Jack Henry
Sculptor Jack Henry forms monuments to post-industrial America, incorporating found objects from his environment into panels of resin and cement to create colorful, richly textured abstractions. Collecting left-behind items encountered during his daily routines, he recasts roadside memorials, tattered billboards, and objects relegated to the margins into poetic moments that transcend the original context of their source.

Timothy Mitchell
Using discarded construction materials and industrial paints, Timothy Mitchell creates abstract works through an intuitive process inspired by aerial landscapes and deep space as well by personal relationships. Ranging from monochrome to vibrantly colorful, his paintings evoke shifting topographies and intense emotion. Embracing the existing surfaces and forms of his found media, Mitchell's richly textured pieces reflect the story of their origins and the artist's own experiences.

August Krogan Roley
August Krogan Roley's artistic practice has developed from exploring displaced marks in materials of habitual routine. His work includes paintings, transferred prints, collages and installations that combine amalgamated remnants of carpet and shoe soles to re-contextualize paintings' canonized influence from nomadic tapestries. August often plays with notions of interior and exterior forces uniting to celebrate the transformation of pictorial space.

Alex Valls
Alex Valls collects and reassembles detritus such as plastic, metal, wood, and glass into sculptures that register environmental and cultural sentiments and represent the shifting realities of the landscape. The objects reference the areas in which they are found and presented, owing to a specific city or place yet allowing for a reconsideration of their future. Viewing the found sculptural elements outside their predetermined setting allows for visual and/or conceptual abstraction.

Jess Willa Wheaton
Jess Willa Wheaton explores pictorial surface tensions via collage constructions. She creates compositions that re-inscribe and unite found printed images with new meaning. Through careful construction, her work incorporates found photographs and various imagery and material, pieced together to create new and engaging visual spaces.