Chromatic Reveries
April 5 - 24, 2019
Opening Reception: Friday, April 5th 6-8 pm

NARS Foundation
201 46th Street, 4th Floor
Brooklyn, NY 11220
*NARS Gallery Hours: Monday - Friday: 12-5pm, or by appointment

Curated by Michael Fleming, Olivia Swider and Rachel Tretter

With works by Audrée Anid, Nicholas Cueva, Vincent Dermody and Darryl Westly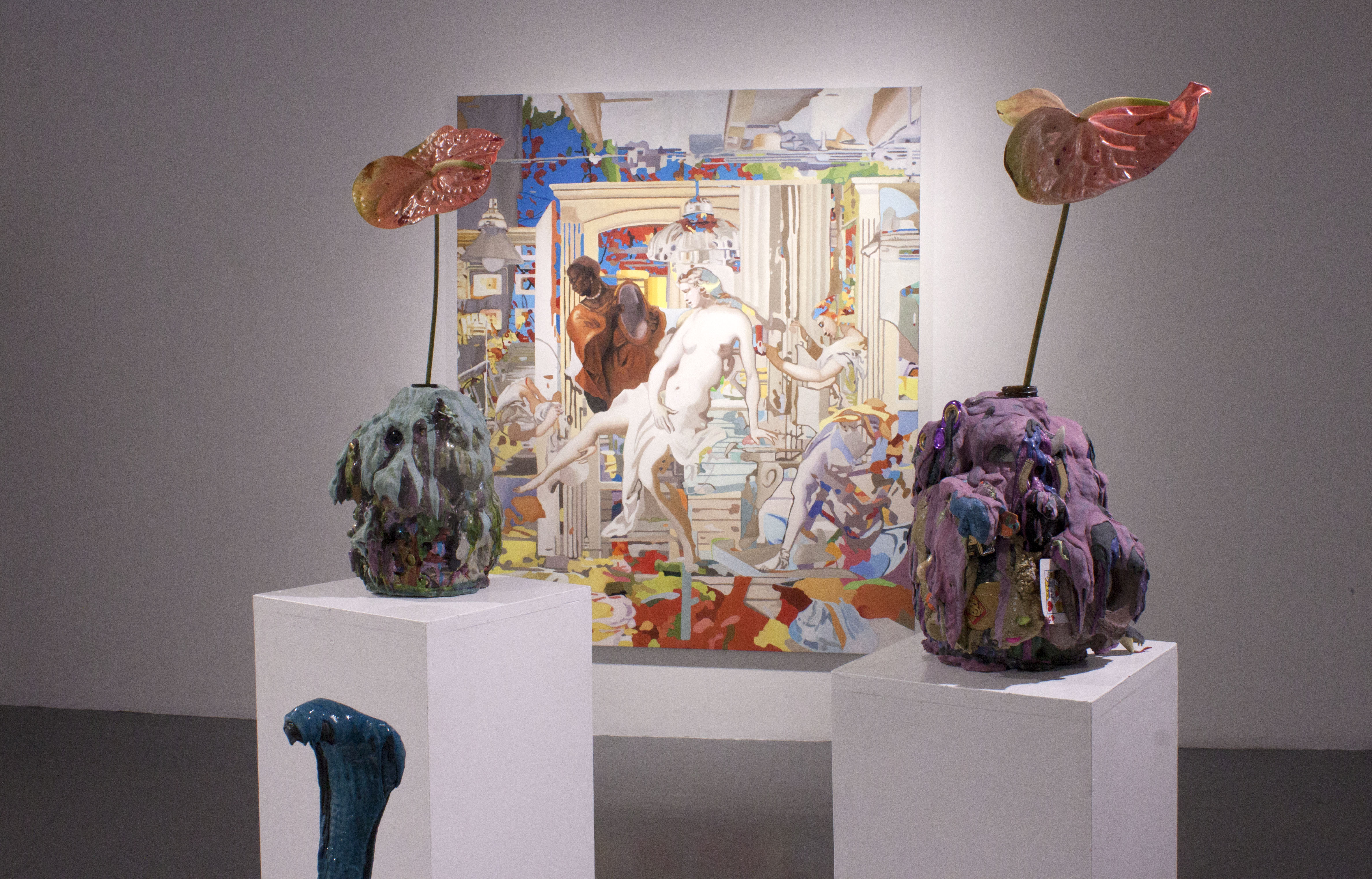 Chromatic Reveries, Installation View, NARS Foundation, April 2019

Chromatic Reveries unites four artists - Audrée Anid, Nicholas Cueva, Vincent Dermody, and Darryl Westly - working across painting, sculpture, and found photography. Their practice shares a specific affinity for using the surface as a palimpsest for layering meaning and memory. This exhibition explores the excavation of personal history, fractured realities, and the character of the cities where these four artists have spent time creating.

Audrée Anid's ongoing series of 35mm color-film photographs, Re-Fractions and Peel layers textural oil paint and archival family photographs salvaged from her grandparents apartment in Beirut after a fire. The painterly interventions disrupt the documentary element of photography, speaking to the vacillating nature of identity, memory, and place. Having been raised in New York City, with frequent trips to Lebanon growing up, Beirut conjures 'refracted' perspectives for Anid - a locus for childhood memories and a place of 'otherness.' She will also be transforming the space of the gallery with architectural fragments on wall vinyl.

Nicholas Cueva creates paintings and objects that resemble artifacts of a bygone era. Cueva becomes an intrepid voyager of the Endless Summer, creating paintings of surfers wading water in swampy oceanic sunsets. Cueva's color space is comprised of dark earthy, muted tones with recurring red wine hues and blue-green water scapes.

Vincent Dermody constructs sculptures that are tied to his own autobiography. Dermody's sculptural practice is an outpouring of the artist's psyche. His re-imagining of the sculptural collage technique, the "memory jug" comes together through accumulation and bricolage. The artist embeds found objects, personal mementos, and ephemera in globules of pigmented concrete oozing over empty beer growlers. The brash continuous colors and layering of materials give these works a punk irreverence. For this exhibition Dermody will be presenting two memory jugs functioning as vases with floral arrangements and a taxidermied cobra encased in colored concrete.

Similar to Anid, Beirut also serves as a jumping off point for painter Darryl Westly in his investigations of perceived desire and projected fantasy. In October 2016, he was awarded a residency with Beirut Art Residency, his first trip outside North America. Westly translates the dissonance he felt between (largely xenophobic) portrayals of the region in Western news media and his experience with daily life in the city into colorful, hyper-realistic paintings that layer architectural elements and disruptive bursts of flora, furniture, and pixelated, protean sections of color. In this exhibition Westly will be presenting a large scale oil painting of bathing figures in a fractured floral interior scene.

Audrée Anid is a Lebanese-American mixed-media artist and independent curator whose work spans photography, painting, and printmaking. Audrée was born in Ann Arbor, Michigan in 1990 and grew up in the Bronx, New York. She holds a B.A. from Wesleyan University in Connecticut and an M.A. from Teachers College, Columbia University in New York. Her work has exhibited at Photoville NYC at Brooklyn Bridge Park, Humble Arts Foundation, Equity Gallery, Brooklyn Fire Proof East Gallery, Gallery at BRIC House, and Robert Miller Gallery among others. International exhibitions include Arts Suzhou in Suzhou, China, The Beirut Contemporary Global Art Fair in Beirut, Lebanon and Beit Beirut, Museum and Urban Cultural Center in Beirut, Lebanon. She recently completed the Artist on Art Program at Olana State Historic Site, in Hudson, New York in partnership with IAIA I Institute of Arab and Islamic Art in New York. Her work is in the permanent collection of Teachers College, Columbia University. She is based in Brooklyn, New York.

Nicholas Cueva was born in 1983 in Los Alamitos, California. He earned an MFA from the School of the Art Institute of Chicago in Painting and Drawing, where he advised with with Albert Oehlen and Jerry Saltz, among others. He has lived and worked in New York since 2011 and is an active member of the Bushwick art scene.

Vincent Dermody (b. 1973, Chicago, IL) currently lives and works in Brooklyn, NY. Solo exhibitions include: Nervous Service, 65 Grand, Chicago, IL; What Burns Never Returns, MOUNTAIN, Brooklyn, NY; Unretouched: Proof, The Storefront, Chicago, IL; Dick Dermody's Invincible, Heaven Gallery, IL; You're Still Under 30, Suitable Gallery, Chicago, IL; and 33 Jobs, T.B.A. Exhibition Space, Chicago, IL. Recent group exhibitions include: Normann X Brask Art Collection, Copenhagen, Denmark; Meisenfloo, Norma Mangione Gallery, Turin, Italy; Twelfth Show: Abstraction, EDDY'S ROOM, Brooklyn, NY; I Amaze Myself, Common People, Brooklyn, NY; Robert Davis feat. Law Office Presents, Anonymous Gallery, Mexico City, Mexico; CEMETARIUM, Regina Rex Gallery at Emerson Dorsch Gallery, Miami, FL; The Physical Impossibility of a Hangover in the Mind of Someone Drinking, Hills Esthetic Center, Chicago, IL; Eraser, curated by Rachel Furnari, Magnan Metz Gallery, New York, NY; and Fun Gun, curated by Brad Troemel, Satan Satin Gallery, Chicago, IL. Select press includes: Artforum, The New York Times, Flash Art, The Miami Herald, and The Breeder Magazine. Dermody received his BFA from the School of the Art Institute of Chicago, and his MFA from the University of Illinois at Chicago, Chicago, IL.

Darryl Westly is an artist and curator based in New York whose paintings experiment with hyperrealism, architectural elements and visual layering to create disruptive portraits of contemporary western culture. A graduate of Cooper Union's school of art, Westly has honed his craft working for artist Jeff Koons and now exhibits across the globe. He has curated shows for Christies Auction House, FiveMyles and Miranda Kuo, and most recently designed a Digital watch for Fossil. He currently works alongside the art collective Bruce High Quality in Industry City, Brooklyn and his studio in Chinatown, Manhattan.