Here or There
Paolo Arao & Kaveri Raina
October 23 - November 24, 2019
Opening Reception: Wednesday, October 23rd from 6-9PM
Presented by RATA Projects

1 Rivington Street
New York, NY 10002
Gallery Hours: Sundays 12-6PM, & by appointment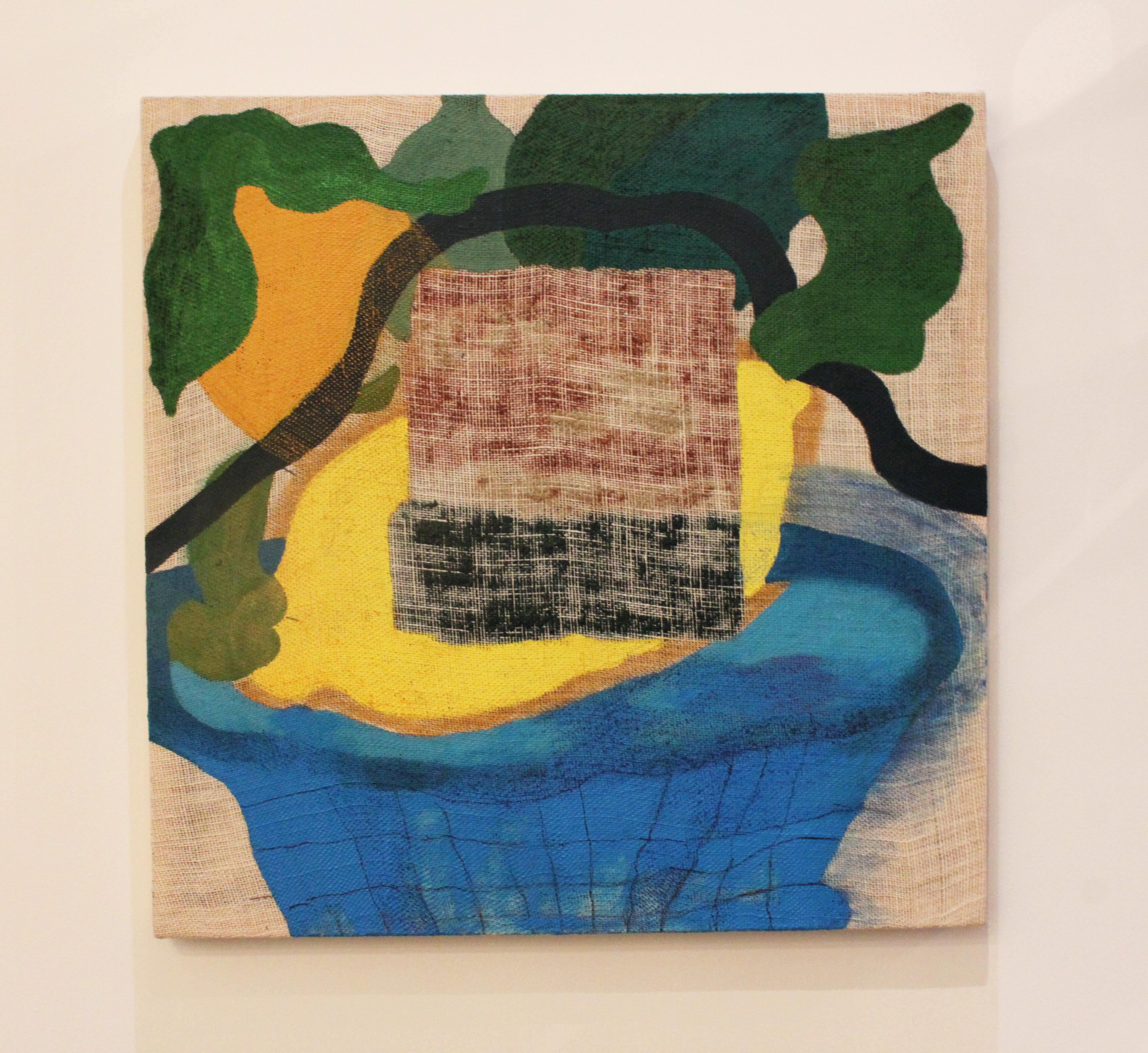 Left: Kaveri Raina, Gaze, Le Mon, Lasting, Acrylic, oil pastel, burlap, 32 x 32 inches, 2019
Right: Paolo Arao, Our Hours, Sewn cotton, canvas, and acrylic, 33 x 27 inches, 2019

RATA Projects is pleased to present Paolo Arao & Kaveri Raina: Here or There, on view at 1 Rivington Street from October 23 through November 24, 2019. Both artists will present new bodies of work that examine the relationship between personal histories and cultural frameworks. Through varied modes of abstraction and the use of metaphorically rich materials, such as textiles and found fabrics, Arao and Raina address the conflict of hybrid selves.

Paolo Arao fuses textiles with painting to explore the elastic nature of queerness. Central to his practice is the use of a sewing machine; arranging pieces of second hand clothing, hand-dyed fabrics, and weathered canvas, he incorporates them into compositions rooted in geometric abstraction. The works often resemble flags or quilts, alluding to people and places through the coded visual language of shape and color. Certain motifs are inspired by woven textiles from the Philippines and the American quilt-making traditions of the Amish and Gee's Bend. Color, materiality, and labor are interwoven, allowing for warping that alludes to the human body and lends a handmade tactility to the work. In his sewn paintings, the stability of the geometric forms is disrupted through the use of altered patterns and asymmetry, creating a space that's dynamic and shifting – much like the concept of queerness itself.

Kaveri Raina's layered compositions convey a complex field of cultural and personal interrelationships associated with her bi-national upbringing between India and the United States. Brightly colored, protean shapes that hint at figuration drift across backgrounds painted on burlap. She paints on the back and front of the material, allowing the pigments to seep through the textured surface to connote being located in between cultures. For Raina, color is a tool used to unearth or trigger lost memories. She treats painting like clay, molding and sculpting out of colors that she associates with her childhood. The memories take shape on the surface yet are never fully resolved. Raina's drawn to off-kilter schemes, pairs that don't quite match or clash. A sensation of hovering, hanging just above, visible and present, yet distant, is a common thread; the work asks what it is to linger, to remain between here and there.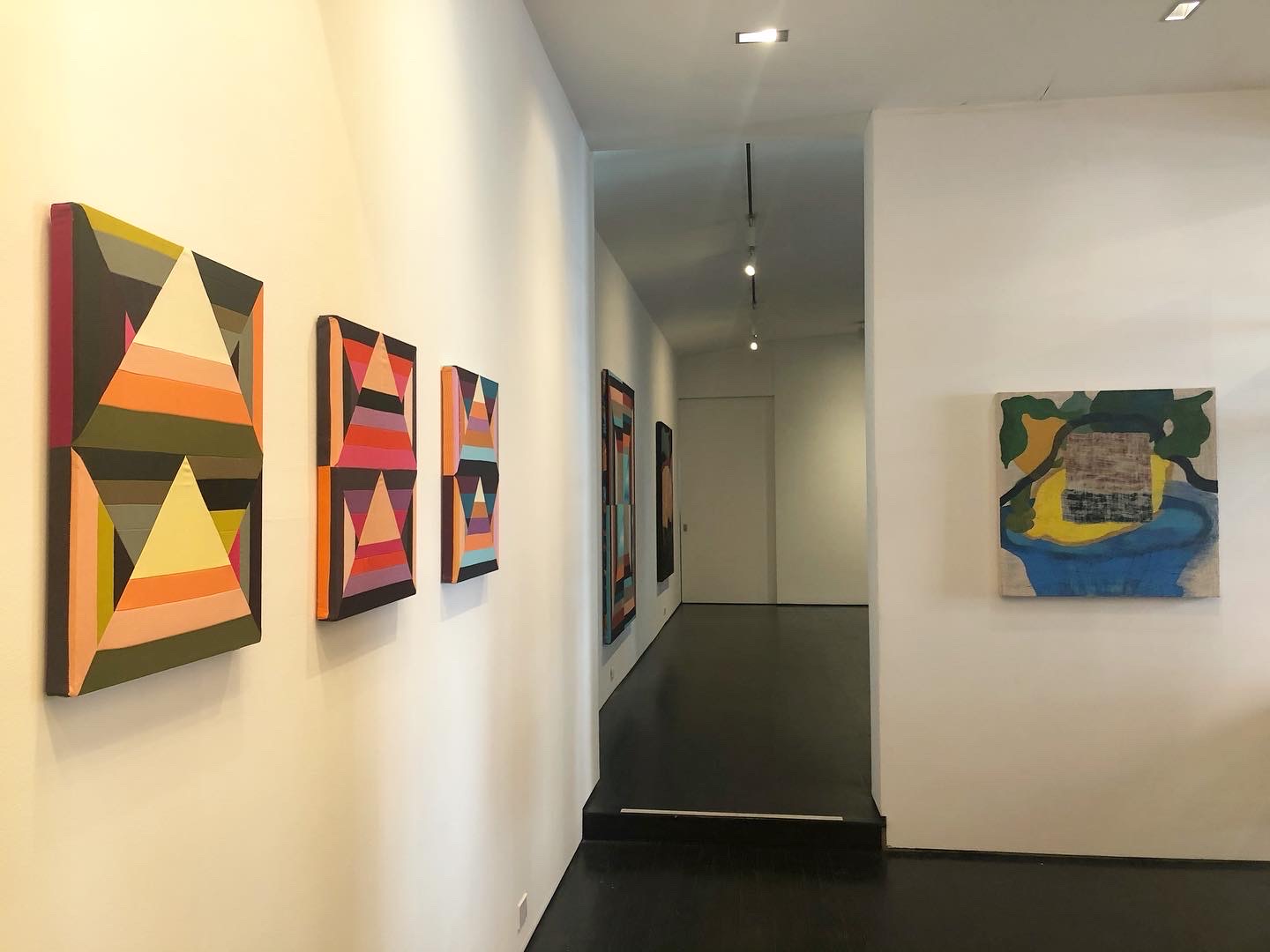 ABOUT PAOLO ARAO

Paolo Arao is a Brooklyn-based, Filipino-American artist working in painting and textiles. He received his BFA from Virginia Commonwealth University (1999) and was a participant at the Skowhegan School of Painting and Sculpture (2000). Arao has shown his work in numerous group exhibitions both nationally and internationally and has presented solo exhibitions at Glass Box (Seattle), Western Exhibitions (Chicago), Franklin Artworks (Minneapolis), Jeff Bailey Gallery and Barney Savage Gallery (NYC.) Residencies include: Millay Colony, Studios at MASS MoCA, Vermont Studio Center, Lower East Side Printshop Keyholder Residency, NARS Foundation, Wassaic Project, BRIC Workspace, Atlantic Center for the Arts and the Fire Island Artist Residency. He is a recipient of an Artist Fellowship from The New York Foundation for the Arts. His work has been published in New American Paintings, Maake Magazine and Esopus. He is currently an artist-in-residence at the Museum of Arts and Design in NYC.


ABOUT KAVERI RAINA

Kaveri Raina lives and works in Brooklyn, NY. She was born and raised in New Delhi, India and moved to the United States at the age of eleven. She received her BFA from Maryland Institute College of Art in 2011, her MFA in Painting and Drawing from the School of the Art Institute of Chicago in 2016, and studied at the Skowhegan School of Painting and Sculpture in 2017. Raina has received various awards and fellowships including the James Nelson Raymond fellowship, Fred and Joanna Lazarus Scholarship, and was recently nominated for the Joan Mitchell Foundation Painters and Sculptors grant. Raina's work has been exhibited in the US, India, and Germany. She had her first international solo exhibition in March 2019 at Annarumma Gallery, Naples, Italy, and had a solo show at Assembly Room, New York, NY this past spring. During the summer she was included in an exhibition at Luhring Augustine, New York, NY.