November 29 - December 2, 2018
Address: 131 Chrystie Street, New York

Public Hours:
Saturday, December 1st: 12-6PM
Sunday, December 2nd: 12-6PM

Yael Ben-Simon
Mr. Kiji
Charlotte Lethbridge
Andre Szabo
Darryl Westly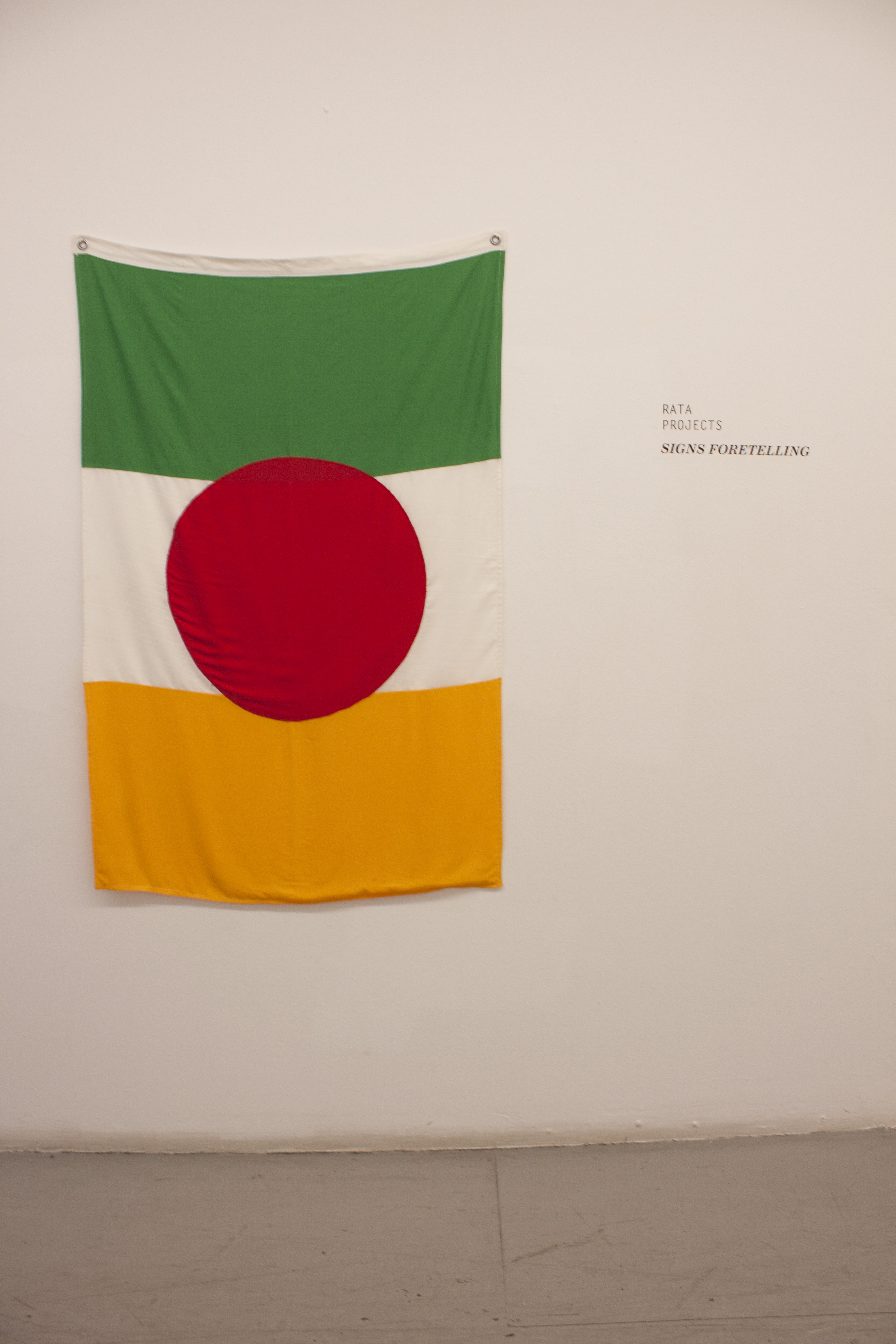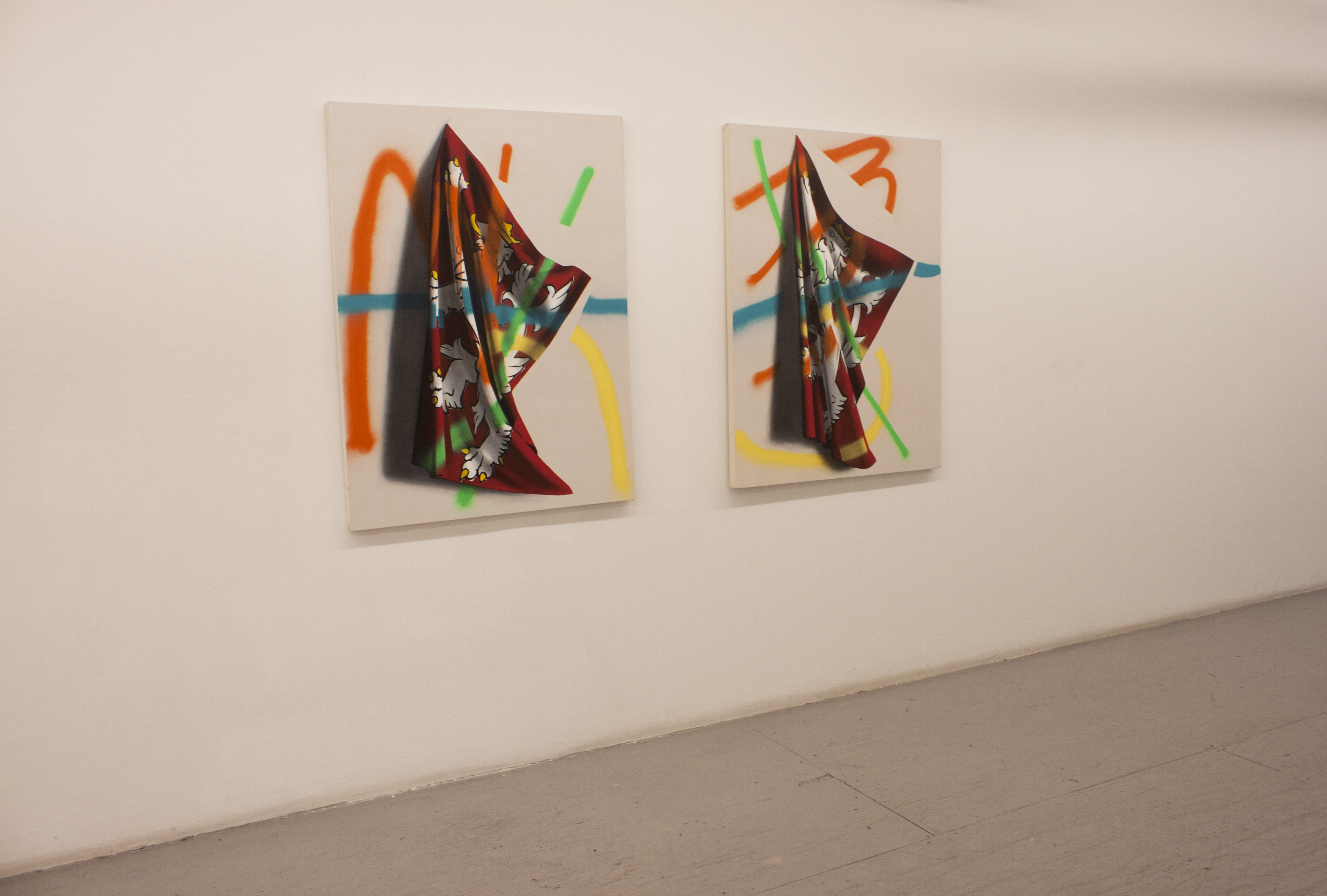 …

Over the saints of debauchery

Over criminals made of gold


Over the princes of delirium

Over the paupers of peace


Over signs foretelling the end of the world

Over signs foretelling the beginning of a world


Like one of those tender strips of flesh

On either side of the vertebral column


Marcel, Wave!

- Charles Henri Ford, FLAG OF ECSTASY (For Marcel Duchamp), 1972

RATA projects brings together contemporary artists to explore the loaded and multifaceted symbolism of flags - from personal ensigns, to nationalist icons, to design objects.

Yael Ben-Simon
Yael Ben-Simon's manipulation of heraldic and national flag imagery forms the basis of her paintings, which explore nationality, politics, and history. Disarrayed, stretched, floating, or obscuring objects, the flags exist in a fictional space, the logic of which is unclear to the viewer. Removed from an overtly political context, the symbols on the flags become unintelligible, thereby challenging their status as venerated objects. Ben-Simon received her BFA from the Bezalel Academy of Art and Design, Jerusalem, Israel and her MFA from The School of the Art Institute Chicago, Chicago IL. Awards and residencies include the MASS MoCA Artist Residency, North Adams MA (2017); 4th 2017 ArtSlant Prize Showcase (2017); SIM Residency, Reykjavik Iceland (2016); PILOTENKUECHE Artist Residency, Spinnerei Leipzig Germany (2016). Select exhibitions include 'Out of My Book,' Soo Visual Arts Center, Minneapolis, MN (solo) (2018); 'Vagabond Time Killers,' The Wassaic Project, Wassaic NY (2017); Deal With It, Maake Magazine Fall 2016 Exhibition, Woksob Gallery, State College PA (2016); and 'Babel,' PILOTENKUECHE Halle 14, Spinnerei Leipzig, Germany (2016).

Mr. Kiji
Artist, designer and muralist Kiji McCafferty's (aka Mr. Kiji) work is informed by his dual American and Japanese origins. Born in Japan to an American mother and a Japanese father, he grew up primarily in New Mexico and New York City. Fascinated by the history of US-Japan relations, particularly during World War II, the artist has explained that "American and Japanese culture are united because of the conflict...and there's this weird mirroring and mimicry — these echo effects in pop-culture imagery." Rather than making a value judgement on this relationship, Kiji aims to create "a language that deals with folklore and pop-culture references from when I was a kid," incorporating imagery from sources as varied military patches for clandestine operations to comics. Kiji was formally trained in Tibetan Buddhist Thangka painting and earned his BFA in Industrial Design from the Rhode Island School of Design, Providence, RI. His work has been featured in publications including The Creators Project and Wired, and he has produced murals of scale and editorial drawings for the New Yorker and Bloomberg, among others. In 2017, he was the subject of the Red Bull Arts Resident Exhibition in Detroit along with Tschabalala Self and Ellannah Sadkin.

Charlotte Lethbridge
In her newest paintings, Charlotte Lethbridge taps into American nostalgia and embeds her work with a sneaking sense of detachment. Her paintings are characterized by a muted color palette and minimal, sharp lines, amplifying quotidien moments; evoking longing and stillness through her depiction of the mundane. These paintings depict a Californian landscape in peril; both haunting and mesmerizing. Charlotte Lethbridge was born in Yonkers, NY in 1991. She received her BFA from the School of Visual Arts. In the summer of 2018, Lethbridge's solo exhibition Cliffhangers, Red Herrings, and Unreliable Narrators was shown at Deborah Berke Partners' project space in New York. Charlotte currently lives and works in Los Angeles.

Andre Szabo
Andre Bogart Szabo was born in Washington, DC in 1990 and is currently based in Brooklyn, New York. Szabo received his BA from Emerson College's Visual Media Arts department. Since 2010 he has created paintings, drawings, prints, and videos. He recently completed an artist residency at MASS MoCA. Szabo's mind-bending works on paper place an emphasis on repetitive mark-making and close attention to the economy of line. His most recent series, utilizes the printmaker's brayer as an alternative to the painter's brush; here, the artist hand-marks the paper with lithography ink.

Darryl Westly
Through his work, artist and curator Darryl Westly investigates perceived desire and projected fantasy. His hyper-realistic paintings layer personal iconography, art historical references, architectural elements with idealized landscapes and seductive figures. As Westly explains, "the legend of American exceptionalism and the reality of current of events has a created a steep contrast between the dream and reality of what this country really represents throughout the world today." Westly graduated from Pratt Institute as a sculpture major and holds a BFA from The Cooper Union for the Advancement of Science and the Arts. He currently works alongside the art collective Bruce High Quality in Industry City, Brooklyn and in his studio in Chinatown, Manhattan. He has curated shows for Christie's Auction House, FiveMyles and Miranda Kuo, and most recently was commissioned to design a Digital watch for Fossil. Select exhibitions of his work include '10 Years / 100 Sculptures' curated by Curated by Todd von Ammon & Joseph Ian Henrikson, Anonymous Gallery, Mexico City, Mexico (2018); 'Ways to Die,' Bruce High Quality Foundation, New York, NY (2018); and 'Art Athina with Club Pro LA and The Institute for New Feeling,' Tae kwon Do Pavillion, Athens, Greece (2015). In 2016, he was awarded a residency with Beirut Art Residency, Lebanon.